Pain Relief for TMJ & TMD
"Orofacial, Neck & Shoulder"
WHAT IS TMJ AND OROFACIAL PAIN?
Orofacial/Craniofacial pain is a field of dentistry that deals with the diagnosis and care of non dental pain that presents in the head, face or neck, or inside your mouth. These types of disorders all have unique causes and treatments. People with persistent pain in the form of headaches or migraines, pain in their teeth, mouth, face, neck, shoulder, and all the way down to their feet often turn to their dentist for any suspicious toothaches.
Dental pain is a type of orofacial pain and can often be treated by dental procedures. But orofacial pain can also be caused by non dental pain disorders like TMDs that resemble pain in your teeth, mouth or face. Not all dentists and oral surgeons have advanced training in orofacial pain disorders. But Orofacial/Craniofacial Pain Specialists with advanced training can help you get to the root of the problem.
CAUSES OF OROFACIAL/CRANIOFACIAL PAIN
Pain in your teeth, face and head may actually originate from other surprising causes like rhinosinusistis, mouth breathing, sleep disorders, OSA, tongue ties, clenching, and TMJ disorders. It also affects the muscles used to chew, swallow and talk, as well as other associated structures.
Patients suffering from TMJ usually have fatigued & spasming facial muscles resulting from trauma, stress, clenching or the inability to find a proper bite, incorrect swallowing and breathing dysfunction. To enable you to chew and close your mouth properly, your jaw muscles may be working overtime to try and keep your head posture in balance. When these muscles become fatigued it can send pain down your neck and into your shoulders and back. The pain can even radiate down your arms in severe cases.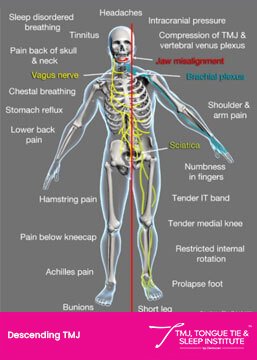 TYPES OF PAIN
THE MIGRAINE CONNECTION
Migraine can sometimes resemble pain in the facial area. TMD and headache disorders commonly occur together, with migraine being the most common headache disorder for TMD patients. TMD symptoms can amplify migraine and may increase the likelihood of them becoming chronic. Almost every TMD patient I see suffers from headaches and/or migraines. It's interesting how many people do not mention this as a concern unless they are asked, because it has become their norm. Daily headaches are NOT normal.
Pain is a personal experience, so it can be very tricky to explain it. It is helpful for an orofacial pain doctor to know where the pain is located, if it's always there or comes and goes, how long it lasts, and any associated symptoms. It also helps the doctor if you describe what your pain feels like.
| Neurological Pain | Orofacial Pain | Articular Pain |
| --- | --- | --- |
| Very Strong Pain | Stiffness | Acute |
| Paresthesia | Dull Ache | Localised |
| Numbness | Intense Pain | Pain Reduced with Rest |
| Tingling | Referred Pain | Sharp, Knife Like |
| Burning | Deep & Aching At Rest | Pain On Movement |
| | Mild to Severe Pain | |
| | Inconsistent Variable Pain | |
| | Tenderness of Skin in Region of Referred Pain | |
| | No Prickling, Numbing or Burning | |
| | Rarely Throbbing | |
Neurological Pain
Paresthesia
Numbness
Tingling
Burning
Orofacial Pain
Stiffness
Dull Ache
Intense Pain
Referred Pain
Deep & Aching At Rest
Mild to Severe Pain
Inconsistent Variable Pain
Tenderness of Skin in Region of Referred Pain
No Prickling, Numbing or Burning
Rarely Throbbing
Articular Pain
Acute
Localised
Pain Reduced with Rest
Sharp, Knife Like
Pain On Movement
If we know WHY, we know HOW? At The TMJ, Tongue Tie & Sleep Institute by Dentician, we focus on decreasing the instances of pain and the patient's functional limitations using comprehensive and minimally-invasive approaches to sustainably improve quality of life. If you are living with orofacial pain, remember that you are not the only one. This is something that affects several people, and an experienced orofacial pain dentist can help you find the right diagnosis and care.
Our Non-Invasive Solutions for TMJ Disorder & Jaw Pain: